Publication date: Jan 20, 2023
VIDEO | Maria Paissoni: an insight into the effects of anthocyanins on in-mouth perceptions
In this interview, Maria Paissoni, a researcher at the University of Turin, speaks about the effects of anthocyanins on in-mouth perceptions.
"Why did we decide to go to study anthocyanins? This is mainly because astringency on in-mouth properties is more in general are strongly related with the grape tannins", explains Maria Paissoni.
To read the original article in Open Access, click here: Sensory assessment of grape polyphenolic fractions: an insight into the effects of anthocyanins on in-mouth perceptions
We are very proud of this new media highlighting the articles published in our journals. To discover our future videos, subscribe to our Youtube channel. You can also find four other interviews with Gregory Gambetta, with Antonio Graça, with Florence Fontaine or with Gonzaga Santesteban.
---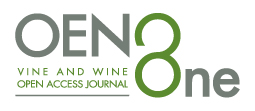 OENO One is a peer-reviewed Open Access journal in the field of vine, grape and wine sciences. The journal has received an impact factor of 3.000, one of the highest obtained by all vine and wine journals in the world.